Facility
At Oak Forest Academy, we believe that in order to deliver upon our promise of exceptional child development programs, we first had to ensure an incredible, safe and supportive atmosphere. Inspired to create a space conducive to unfettered learning and growth, we are constructing the region's most welcoming preschool facility. Innovative, spacious and thoughtfully designed, Oak Forest Academy is conveniently located on 34th street between Ella and Oak Forest Dr.
After months of searching for a space that provided easy access to parents, as well as room to expand and a safe environment for teachers and students alike, we were thrilled to secure the property. With more than 10,000 square feet of outdoor space, the facility provides ample room for physical activity so important to healthy, growing children. We've included a large soccer field and open play areas for each age group. Safety and security play equally important roles at Oak Forest Academy and our secure outdoor play areas are no exception with constant monitoring by trained staff members.
Indoors, we've given extra consideration to individual learning spaces. Every classroom is big, bright, clean and equipped with the most innovative security equipment and educational tools available. We've allotted significantly more square feet per child than the 30 square feet mandated by the state because we believe more attention and more space combine to provide a better learning and care experience for your child. Our enrichment room is over 800 square feet and is dedicated specifically for our STEAM activities where our children can cultivate their imagination and creativity. From our enrichment room to our world-class commercial kitchen, every inch of our preschool has been thoughtfully and lovingly designed.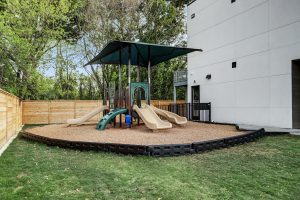 ---
Safety and Security
Oak Forest Academy is built on the promise of creating an environment where all children feel physically and emotionally secure. We've designed our facility to ensure unquestionable security at all times, utilizing modern technology to create a comfortable environment where parents, staff, and children can feel confident and safe.
Controlled access to the center: Each outside visitor to Oak Forest Academy must enter a unique code in order to enter our lobby. Once inside, they must enter another code to check their children in or out, before entering our second set of security doors leading to our classrooms. Our campus is also protected by private security guards during all business hours.
Security system: Oak Forest Academy features a state-of-the-art video security system that monitors activity inside each classroom and all common areas. Parents are able to access live video feeds of their child's classroom anytime they need via the web or mobile app using our highly secure, password-protected system.
Understanding that security is more than just a well-protected facility, we've worked diligently to find and hire the very best faculty and staff members in the region. Scrupulous in our search and screening process, we've hand-picked only those professionals who have demonstrated a commitment to the welfare of children and have a proven track record of teaching and childcare excellence.  All faculty, staff and regular visitors who interact with children at Oak Forest Academy are fingerprinted and subject to a thorough FBI criminal record check, sex offender searches, and social security verification along with other screening measures. We never compromise our standards to favor speed or convenience, choosing to instill confidence and peace of mind throughout the day, every day.
---
Nutrition
The relationship between nutrition, health, and learning is undeniably strong.  Research studies show that nutrition in a child's early years is linked to their health and academic performance in later years.
Offering parents convenience and peace of mind, our nutritional program ensures every one of our students is fed wholesome, nutritious meals and snacks while in our daily care. Understanding that a good diet promotes healthy growth and better brain function, we've engineered a nutrition program that parents can trust in. Each meal is meant to ensure that your child has the energy and stamina to function at their best throughout the school day. With a state-of-the-art, commercial-grade kitchen, our in-house chefs create a lunch and two snacks every day. Our kitchen staff also tries to always be conscious of food allergies, therefore, we have a strict no nut policy.
To further encourage a greater understanding of food as fuel, we routinely serve the vegetables our students grow in our on-site garden. Not only do they get the pride and satisfaction of being involved in the process, but they get to experience first-hand the concept of farm-to-table nutrition.
A wholesome daily diet serves as a healthy foundation for learning. Through our program, we ensure nutrition that parents can confidently rely on.
---
Ratios
The student to teacher ratio requirements for a preschool is outlined by the Texas Health and Human Services Commission (minimum standards subchapter E, section §746.1601).  Many preschools aim to meet the minimum requirements of these guidelines, thereby maximizing the number of children in a classroom.  However, we believe the quality of education is impacted by this ratio. Therefore, we have developed target ratios that better reflect the number of students a teacher can reasonably handle in order to provide the level of attention needed to accomplish our educational goals.
---
Communication
We believe communication is key to success in any environment, and we encourage honest and open communication amongst the kids, parents, teachers, and staff. In addition to the live video feeds that parents can access at any time, we provide an app so that our teachers can easily engage with the parents sharing memorable moments and automating daily reports with activities, notes, photos, and videos – personalized for each family.